With the winter weather rolling in, it's time to get your RV ready for the cold! At Shaw RV, we're offering RV winterization classes for the next two weekends! Learn more about why winterizing your RV is vital to keeping your RV ready for adventures for years to come. We'll show you how to sign up for the classes below.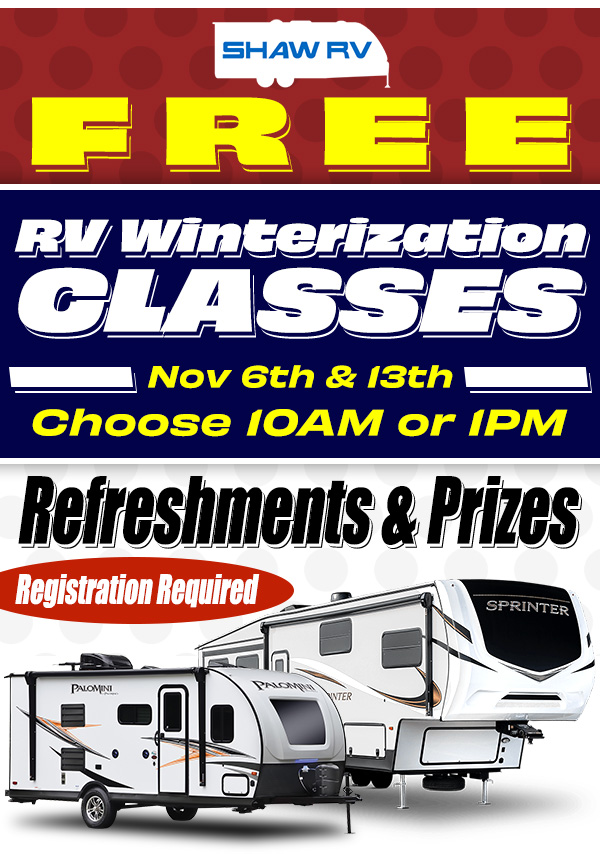 Why Winterizing Your RV is Important
RVs are built to be portable and lightweight; the vast majority of RVs are not intended for use during the freezing temperatures of winter, which is why RV winterization is vital. Winterizing involves draining all the water tanks and running antifreeze through your plumbing system to ensure the pipes are protected during freezing temperatures. There are some complicating factors when it comes to winterizing your RV at home, but you can learn to overcome those challenges when you take our RV winterization class!
November 6th and 13th, at both of our locations, you can get a free RV winterization class led by one of our RV service professionals. Sign up today to reserve your spot. You'll be able to enjoy refreshments and prizes just for attending this informative RV service class, which will help you keep your RV ready for the years of adventures ahead. 

Are you looking for additional RV services? Book an appointment with our RV service department today! Whether you need regular maintenance, a part replacement, or other maintenance and repairs, we are happy to help!  
Contact us today to find the perfect RV for your adventures or to sign up for our free RV winterization classes! Protect your RV and get ready for the winter when you come to Shaw RV this weekend or next! Be sure to sign up ahead of time and reserve your spot today.