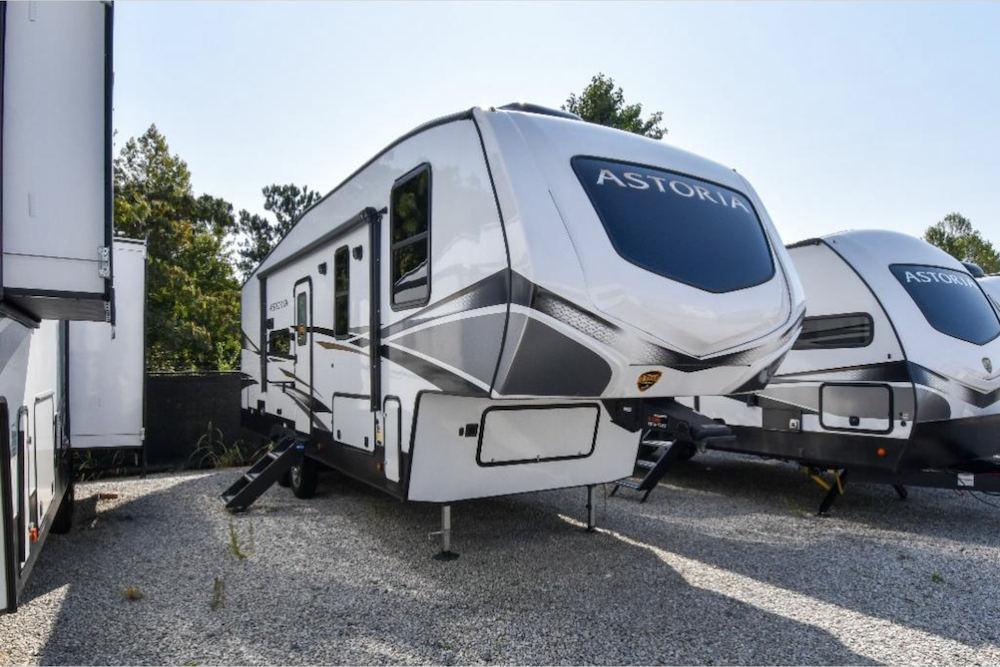 As you and your family head out to enjoy the great outdoors, ensuring your RV's kitchen is well-stocked and well-equipped is a vital element of the packing process. Get the most out of your RV with these tips on what kitchen staples cannot be missed and how to best utilize your cooking and storage space so your family's home away from home is as comfortable as possible. RV travelers in the Asheboro, Raleigh, Greensboro, Winston-Salem, and Concord areas are invited to learn how to bring the comforts of home with you wherever you go.
Cooking Tools and Appliances
The first step to packing your RV kitchen is ensuring you have the basics. From cooking tools to dishes for dining, you'll want to pack any items you will need to prepare and serve your family's favorite meals while you take on the open road. A few things to keep in mind as you decide how many items to choose include the size of your family, your preferred camping style, and the space available in your RV. Below is a quick list of ideas to get you started on stocking your kitchen supplies.
2-qt. Sauce pot
4-qt. Sauce pot
Skillet
Spatula
Cooking spoons
Ladle
Grilling utensils
Roasting sticks
Cookie sheets
Colander
Can opener
Measuring cups and spoons
Cutting board
Basic knife set
Flatware
Plates
Cups
Mugs
Cereal or soup bowls
Oven mit
Dish cloths
Sponges
Dish soap
Beyond the basics, there are a few tools you may want to have to simplify your cooking experience while traveling. Some useful appliances include:
Berkey water filter
Instapot
Coffee maker or french press
Toaster
Immersion blender
Electric griddle
Portable grill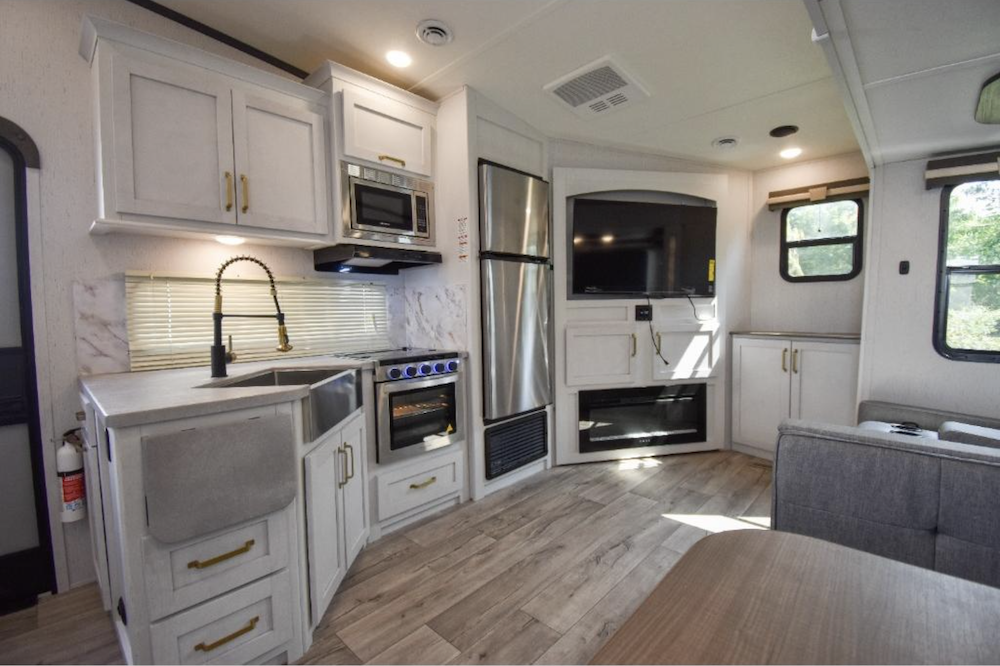 Pantry Staples and Dry Goods
Next, you will want to efficiently choose pantry staples to pack for your journey. Think about what style of camping best suits your family. Will you be cooking frequently? What meals do you and your family typically enjoy while out on the road? Once you know what meals you are likely to prepare, choose your most commonly used spices and seasonings as well as a small bottle of your favorite cooking oil. Beyond the basics, a few other basic pantry supplies to consider include:
Aluminum foil
Plastic wrap
Zipper or slide plastic storage bags
Coffee filters
Nut butter
Jam or jelly
Canned goods
Pasta
Rice
Pancake mix
Sugar
Tea
Honey
Syrup
Coffee
Powdered or canned milk
Once your dry pantry supplies have been covered, it's time to consider what basics you'll want to pack on a trip by trip basis. From basic condiments to popular perishable items, these are the staples you'll want to pack just before heading out on your next adventure. Some of the standard items you'll want to consider include:
Mayo
Mustard
Ketchup
Pickles
Barbeque sauce
Milk
Butter
Eggs
Fresh produce
Deli meat and cheese
Bread
Graham crackers
Marshmallows
Chocolate
Chips
Tips for Efficient Storage
Once you have determined what items you'll want to pack to stock your RV kitchen, you'll want to consider how to pack those items to make the most out of your space. As you pack your pantry goods, keep in mind you will want to take steps to deter determined pests. A simple way to help prevent bugs and rodents from becoming too interested in your food items is to store your supplies in air-tight containers.
When selecting items such as plates, cups, and more, choosing durable and lightweight materials are also a good idea. Choosing items that are versatile and can be used in multiple ways can also be a great space-saving option. Collapsible items such as colanders, measuring cups, and measuring spoons can reduce bulk for storage. Adding vertical storage options like baskets to hang on the back of cabinets or wall-mounted storage such as paper towel holders and produce baskets are a great way to maximize space while maintaining ease of access to your necessities.
Ready to find the new RV that is the right fit for your family's needs? Shaw RV boasts two convenient locations in Asheboro and Raleigh for shoppers to browse our inventory of travel trailers, fifth wheels, and toy haulers. Our RV dealership also features a professional RV service center dedicated to providing excellent care for your RV. Looking for details on financing options for your RV purchase? Our Greensboro, Winston-Salem, and Concord shoppers are invited to get pre-qualified online from the comfort of your home.
SOURCES:
https://www.letstravelfamily.com/rv-kitchen-accessories-you-must-have/
https://livinlifewithlori.com/the-best-rv-kitchen-and-pantry-must-haves-for-your-rv/
https://rvinspiration.com/organize/rv-kitchen-storage-hacks/